The Oceanside Glass & Tile Story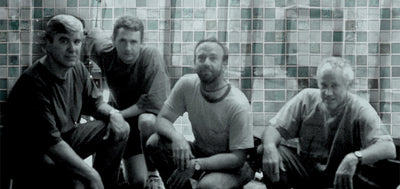 A Tile Company Founded by Three Glass Blowers
Legendary glass blowers Jon Stokesbary, Don Pettey, & Boyce Lundstrom — with the help of Boyce's nephew, Sean Gildea, a young CPA, now CEO & owner — began Oceanside Glass & Tile in an old WWII fighter jet assembly plant in Oceanside, California circa 1992. They sought to bring the timeless beauty of glass mosaics from Europe to the United States. Looking to bridge the art glass world with the world of interior design, our founders pioneered hand-cut, cast glass mosaics resembling tile found in ancient Mesopotamia some 5,000 years ago.
Before the flood of green initiatives and environmentally friendly business practices, we sought to take a different approach to manufacturing by incorporating recycled bottle cullet into our mosaics. Although our raw material sourcing has shifted to preserve the vibrancy of our colors, consistent pre-consumer recycling, clean emissions, and energy efficient operations are just a few of the ways we keep to our roots with mindful operation practices.
"Long before the words "green building" were commonly used, Oceanside was up-cycling beer bottles into high-end tiles destined for beautiful homes."
Over the next few years, the business moved into several different locations in San Diego before establishing our Headquarters in North County. Just a few years later we built our own state-of-the-art, 100,000 square foot production facility in Baja California.
In 2017, we purchased the formulas and glass making equipment from historic sheet glass manufacturing companies, Spectrum and Uroboros. We began incorporating those operations into our existing world-class manufacturing facility. We currently manufacture sheet glass in the "continuous ribbon" format, offering not only a complete line of art glass products for all glass applications under the Oceanside Compatible™ brand but also unparalleled tile products made with our unique art glass sheets.
""We inspire lifestyles and are dedicated to enriching 15 million lives with glass by 2026, one square foot at a time.""